State of the Art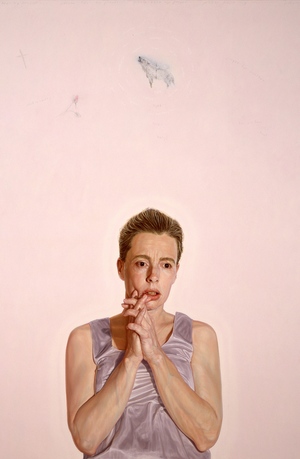 Prayer (1993), oil on canvas, 78 x 58 in


Michael Abatemarco January 24, 2020

Maybe you're a lawmaker or a lobbyist, tracking a bill as it makes its way through the House and Senate toward an uncertain fate. Maybe you're an out-of-town visitor, checking off the "Roundhouse," as the New Mexico State Capitol building is informally known, from your bucket list. Whatever the reason for being there during the legislative session, there's plenty to see beyond government in action. Boasting nearly 500 artworks by New Mexico artists, the New Mexico Capitol Art Collection rivals the permanent collections on view at any of the local museums.
The sampling of exceptional works that follows reflects the eclecticism and dynamism of the Capitol Art Collection and the singular talents of New Mexico's many artists. The works range from the traditional to the contemporary, in a wide variety of mediums. You could easily make a day of it and still not see it all.
Diane Marsh
Prayer (1993), oil on canvas, 78 x 58 in. (On the 2nd floor, west lobby)
Originally based in New York City, figurative painter Diane Marsh spent a year in New Mexico when she was invited to participate in the coveted Roswell Artist-in-Residence Program in 1980. She returned to New Mexico in 1986 and spent 10 years in Santa Fe before settling on a ranch in the southeastern part of the state. She was among the first round of artists featured in the New Mexico Museum of Art's rotating exhibition Alcoves 2020 in the fall. She paints enigmatic, narrative imagery, often of people engaged in moments of contemplation, a tender embrace, or tearful sorrow. Surreal elements like animal forms and human faces float above or surround the central figures, who are often based on Marsh, her family members, and friends. The viewer has the impression that her subjects reflect on, or mourn for, these disembodied or free-floating forms, as though she's making visible that which resides in their hearts and minds. Marsh's work, crafted in varying degrees of hyperrealism, is elegiac and empathetic, expressing a sense of selflessness, devotion, and love.
In Prayer, the faint form of a howling wolf (or other canine) floats high above a portrait of a woman, her hands clasped together in supplication. Is it for the wolf-dog she prays? Her eyes, masterfully rendered, appear to gaze at nothing external. They're open, but she's looking within. For the viewer, the story behind Prayer is open-ended, but Marsh's ability to capture a sense of the inner life of her subject makes it relatable. ◀

---
The Symbiosis of the St. Francis Auditorium and Alcoves No. 1 at The New Mexico Museum of Art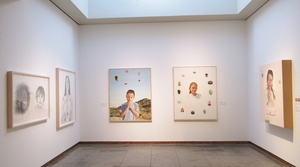 Diane Marsh "Alcoves 20/20" 2019 New Mexico Museum of Art



THE SYMBIOSIS OF THE ST. FRANCIS AUDITORIUM AND ALCOVES NO.1 AT THE NEW MEXICO MUSEUM OF ART written by: Sharon McCawley

The St. Francis Auditorium was never planned to be a place of traditional worship. It was planned to be the first public meeting place in Santa Fe in 1917 when the museum opened. Currently, it is the venue for the Santa Fe Chamber Music Festival, Governor's Award for Excellence in the Arts, art talks, movie screenings, weddings, and even yoga classes.

In a land of Indian and Hispano traditions, it was named after an Italian saint, St. Francis of Assisi. St. Francis is honored for preaching to birds and other animals, for attending to creatures in need, whether they were humans or creatures. His followers were mendicant friars who travelled with explorers and conquistadores to the lands of New Mexico, to the very site of Santa Fe.

The opening of the Auditorium coincided with the opening of the first Alcoves exhibit. The philosophy behind the exhibits was and is to provide access for non-judgmental and self- selected works of art by current New Mexican artists. This new Alcove exhibit relates intrinsically to the original purpose of the St. Francis. It is fitting that his original ethos of the physical and spiritual connection between human beings and the animals of land, sea, air are emphasized in the portraits of Diane Marsh which are currently on exhibit in Alcoves No. 1. Vignettes of land, people, and animals orbit in spheres around her primary subjects.

Diane Marsh, a resident of Roswell, is recognized for her detailed draftsmanship, her emotional contact between artist and viewer, and the iconography of her environmental and mythic images. She has stated that her works "include the importance of the awareness of our connection to the earth and my concerns for its future and for future generations….The paintings are populated by myself, family members, or friends, who are the actors portraying hope for an awakened humanity and the importance of healing the human soul through our connection to the land around us.". Her images are haunted with pain, enlightened with hope. Our shared sorrow is acknowledged and even transcended by her extraordinary technique and her moral vision
The land is inhabited by animals just as her paintings are inhabited by their images. The symbolism of animals has been applied to works of art for thousands of years: the dog for fidelity, the peacock for vanity, the lion for pride. Their inclusion in Ms. Marsh's works takes on an added urgency due to the growing vulnerability of species throughout the planet. By acknowledging the present condition of these animals, we are also acknowledging the purpose and attainment of her portraits.

MY SON/MY SON – This is a double portrait of Diane Marsh's son and an orangutan. The orangutan means "person of the forest "in Malay. The orangutan only lives on the islands of Borneo and Sumatra and is identified as critically endangered. The estimated population is between 50,000 to 65,000 with 2,000 to 3,000 dying each year due to deforestation and hunting. It has lost 80% of its habitat in the last 20 years and could become completely extinct within 50 years. The message is that our children today will be charged to be protectors of the future.

LIVING IN THEIR WOUNDS – This is a pencil drawing of the body of a woman illustrated with animals. Each animal is pierced by a bloody arrow. The illustrations literally touch her skin, relating to their common welfare. Their blood literally stains her. Here are some of the animals starting from the top right:
White Rhino – The Northern White Rhino is extinct in the wild and only three survive in a nature conservancy in Kenya. There are 20,000 Southern White Rhinos with 1300 dying each year due to habitat loss and poaching. It is hunted for its horn which is ground up and used as traditional medicine in Vietnam and China.
Mountain Gorilla – There are 1000 mountain gorillas living in Congo, Rwanda, and Uganda. They are victims of habitat loss, civil war, and poaching. They are also susceptible to human-borne diseases and even the common cold can prove fatal. Humans share 98% of their DNA with gorillas.
African Elephant - The elephant requires critical amounts of food, water, and space. Last century, three to five million elephants lived in Africa. Now the current population is estimated to be 400,000. They are endangered because of habitat loss due to logging and mining. Poaching for the tusks in the ivory trade is just as deadly. Just as people are left or right handed, the elephant is left or right tusked.
Pangolin – This insect eating mammal found in Africa and Asia is the most heavily trafficked wild animal in the world. Its body is covered with scales formed of keratin, the same material which forms human hair and nails. These scales are believed to possess curative powers and are marketed in China and Vietnam. It is completely defenseless and can only protect itself by rolling into a ball. Approximately 100,000 are poached annually which has a tremendous effect on human environment, since one pangolin can consume 70,000,000 insects per year.
Giraffe- The giraffe is critically endangered even though it lives in 15 African countries. The current population estimate is just under 100,000. The population has dropped by 40% in the last 30 years. It is disappearing due to climate change resulting in the loss of acacia trees, its main source of food, loss of habitat, and hunting for its meat and hide. The human and the giraffe have the same number of neck bones – seven.

CHILD'S PRAYER – A child, the protector of the future is shown praying for the welfare of his fellow companions. Perhaps, the most readily identifiable is the Monarch Butterfly, the "King of the Butterflies." Since 1990, approximately one billion monarchs have disappeared due to climate change and the use of herbicides. Specifically, the milkweed plant, which is their only source of food and location for egg laying, has been destroyed to make land available for the cultivation of soy beans and corn.

CIRCLE OF COMPASSION – This is a portrait of the artist's niece who is surrounded by adults with eyes closed to the crisis surrounding them and the entire world. They are truly not awake to the dangers of destruction and extinction. The girl is mourning for the loss of vulnerable animals who are just as essential to her as her human relatives as well as praying for the salvation of the future.
The Polar Bear is threatened by global warming resulting in the loss of sea ice, its habitat and source of food. The Arctic zone is warming twice as fast as the global average and the ice loss has been measured at 40% since 1980.There are now 20-30,000 square miles of ice and predictions are for less than 10,000 by 2050. The ice is receding farther into the ocean where there is less food, specifically seals, forcing the polar bear to forage on land for garbage.
The Chimpanzee like the gorilla shares 98% of its DNA with human beings. There are about 170,000 – 300,000 chimpanzees, but they are endangered due to deforestation, hunting, and exposure to human-borne disease such as Ebola. Chimpanzees are so intelligent that they have been taught to understand and use English by using symbolic tokens in various sizes and colors.

THE WEEPING DRAWER – The final painting is a self-portrait of the artist. The drawer is actually a repository of the earth containing paintings of the land, animals, and human inhabitants. The sense of empathy for others is overwhelming. The viewer mourns with the artist, reminiscent of Pandora's Box- even when all the troubles and woes escape, hope still remains.

Diane Marsh uses her artistic talent as a resource to try to save the world. Her particular message is that we all have talents which are powerful. Her message is expressed in color, light, and line. We can appreciate her message visually and morally. She helps us to remember the message of St. Francis.

"EVEN IF YOU SEE THE DAY OF JUDGEMENT COMING, PLANT A SEED
The Koran




---
Find Your Niche: Alcoves 20/20 Stuart Arends, Mokha Laget, Diane Marsh, Dan Namingha, Emi Ozawa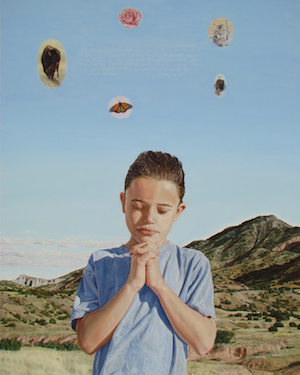 "Child's Prayer" oil on wood, 60" x 48" 2006


ART
"Find Your Niche: Alcoves 20/20" by Michael Abatemarco
Pasatiempo: The New Mexican Weekly Magazine of Arts,
August 9, 2019
When the New Mexico Museum of Art opened to the public as the Art Gallery of the Museum of New Mexico on Nov. 24, 1917, its mission was to provide the contemporary artists of the day with a venue for showing their work. Regional artists could put their names on a list and their work would be exhibited in one of several ground-floor niche galleries, or alcoves. The open-door policy persisted for decades until curated shows took over completely in the 1950s. Alcoves 20/20, which opens on Friday, Aug. 9, pays homage to the museum's original vision by showcasing the work of 30 New Mexico-based artists. (The artists' work appears in six rotations featuring five artists at a time, spanning a year in total.)
"I really think that this continues the museum's engagement with living artists," said Merry Scully, the museum's head of curatorial affairs and curator of contemporary art. "People forget that we were founded as a contemporary museum."

Alcoves 20/20 isn't the first time the museum has revived its alcove shows. They were mounted sporadically in the decades following the 1950s. But a revival in 2012 was the first in 20 years. The idea was brought back again in 2016 as a lead-up to the museum's 2017 centennial. In its 21st-century revivals, the museum has showcased the work of 80 regional artists. "For each of the artists, it's a small one-person show that's part of a group show, that's part of a really long group show," Scully said.

The first rotation of Alcoves 20/20, which runs through Oct. 13, includes work by sculptor Stuart Arends, painters Mokha Laget and Diane Marsh, sculptor/painter Dan Namingha, and mixed media artist Emi Ozawa.

Scully's purview is broad. There is no set theme for the exhibition, but there are correspondences between the work of all five artists this year in their use of a strong, graphic sense of color and the Minimalist quality to their work. Throughout the rotations, Scully includes new and recent work by artists at various stages in their careers. Approximately five works by each artist are included.

"It needs to be good work, not just the kind of work I'm partial to," she said. "I want to make sure that there's a variety of media, and I like to be able to show artists who aren't just from the immediate vicinity. Because of the rapid turnaround, a lot of times I look for artists that have a body of work in progress or already done. We can consider some of them emerging, but they still have to have a substantial body of work and a serious practice."

DIANE MARSH
Rendered with almost hyper real detail, the figurative paitings of artist Diane Marsh, 65, are dreamlike works that have a narrative qulality. But they are narratives in which only the rudiments, or the outlines of stories are revealed. The paintings here, such as "Circle of Compassion" (2017) and "Child's Prayer" (2006), invite the viewere to fill in the blanks. In "Circle of Compassion," the tear-streamed face of a young girl against a plain background, eyes downcast, is encircled by a series of ovals, each one containing a different object, person, or animal: a rose, a butterfly, a crane, several small portraits of people with their eyes closed. Are these figures within her circle of experience that she's come to love and care about? Or are they representative of a heart that embraces the circle of all life? Something about the painting-the girl's tears, the closed eyes in the tiny portrits of people, the fact that some of the animals are endangered or threatened with extinction-gives it an overall tone of melancholy. Marsh, who lives in southeastern New Mexico, paints with a sense of reverence as well as concern for life. Allusions to chilhood and familial relationships abound. Marsh's work is accessible becaue in part, it captures moments of tender introspection and life experiences to which everyone can relate.
---
Emotions on Canvas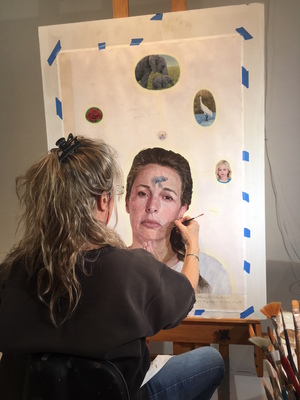 Back Cover Photo:

Diane Marsh Paintings:1986-2017 with essay by Diane Armitage, "Circle Maps and Triangulations: The Art of Diane Marsh" and Foreword by Lucy R. Lippard)



"Emotions on Canvas"
By Cristina Stock, Vision Editor
Roswell Daily Record, Visions magazine August 16, 2018

Those who were at the opening exhibit of Roswell Artist-in-Residence Diane Marsh in November 2002 at the Roswell Museum and Art Center, will no doubt remember the impact Marsh's work had to the onlooker. A tender yet brutal clarity of her portraits-many were self portraits- showed the human tragedy and emotions in all its forms.

Marsh stands out as an artist with her bigger than life realistic work that is often unsettling. Her catalogue/art book shows these and recent works, balancing between portraits, nature scenes of Southeast New Mexico and floating thoughts put to canvas, which surround its human center. Ahead of the art are forewords by Lucy R. Lippard and Diane Armitage who give the reader an insight into the body of work.

Marsh's art astounds and even in the smaller version of a catalogue, her paintings speak of silent anguish, serene prayers, regrets and love. It took talent and courage to create these painting and it takes courage to look at them-courage because it reflects the human experience and its psyche.

Marsh mastered a painting technique that is stunning with eyes of pain looking out and blood running in blue veins close under the skin like the emotions she captures. There is a strong contrast between the emotional luminescent human portraits and her accompanying landscapes-one of her favorites she said is of Bitterlakes National Wildlife Refuge. Just as realistic in its details, the landscapes calm and quiet the mind. This book is a perfect addition for collectors of art books and those who collect material about the artists of the RAiR program.

A look into Diane Marsh's career:

Born in Buffalo, New York, Marsh graduated from the Univesity of Buffalo during a period of dynamic expansion in media arts, film and photography. In 1979 Marsh received a grant form the Elizabeth Greenshields Foundation, moved to New York, and set up a studio in lower Manhattan. In 1980, The Roswell Residence Program invited her to spend a year in New Mexico, at the end of which she returned to New York. In 1984 New York gallery, Frumkin/Struve, added Marsh to their Chicago stable, which resulted in her works being exhibited alongside Phillip Pearlstein, Leon Golub, Joan Brown, Roy De Forest and Robert Arneson. She was awarded a National Endowment for the Arts grant in 1985.

She returned to New Mexico and lived in Santa Fe from 1988 to 1998. During her Santa Fe years, Marsh had solo exhibitions in Denver, Santa Fe and Los Angeles. Her paintings are in found in the Hess Collection in Napa, California, The Albuquerque Museum, the State Capitol Art Collection in Santa Fe, The New Mexico State University Gallery in Las Cruces and with the actors Amy Madigan and Ed Harris to name a few.

In 1998 Marsh moved with her family to Lincoln, Nebraska where she received a Nebraska State Arts Council Grant in 2001. In 2002 Marsh received her second grant through the RAiR Foundation and moved back to Roswell. In 2003 Marsh moved to Abiquiu, New Mexico, established a studio, and was awarded a John Anson Kittridge Foundation Grant. She had solo exhibitions at the Museum of Nebraska Art in 2005, and at the Addison Gallery in Santa Fe in 2006. The Sheldon Museum of Art in Lincoln, NE, the Museum of Fine Art in Santa Fe, the Museum of Nebraska Art in Kearney, NE and the Albrecht-Kemper Museum of Art in St. Joseph, Missouri, have all acquired Marsh's works for their permanent collection.

Returning to Roswell in 2007, Marsh enjoyed the task of repairing and preserving the RAiR Historic Studios, which found a new purpose as living and working homes and studios for artists. In 2017 she obtained recognition for the Historic Studios at Berrendo Road which are now listed on the State and National Register of Historic Places.

---
Diane Marsh Paintings:1986-2017 with essay by Diane Armitage, "Circle Maps and Triangulations: The Art of Diane Marsh" and Foreword by Lucy R. Lippard)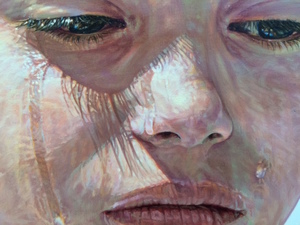 Detail of "Circle of Compassion" DETAIL 60" x 48" oil/wood 2017

Excerpt from foreword: Lucy R. Lippard

Diane Marsh's paintings, many of them self-portraits, convey a consistent and inconsolable anguish, as well as a parallel transformation. They are more than portraits. The emotional depth, or density, of her art is unfamiliar and disturbing. The viewer is almost an intruder, privileged and perhaps reluctant to share the pain. Yet despite the specificity of every subject, Marsh reaches for the portrayal of a broader humanity, psychological experiences that we can recognize and identify with. Although a muted sorrow continues to pervade the paintings to this day, hope hovers too.
The time taken for each meticulously realist work (Marsh completes only two or three paintings a year) is an integral element of the work, woven almost visibly into the content. Although landscape is always in the background it is rendered with such loving detail that it plays a significant role, another layer of portrait—portraits of a place, of New Mexico, of Abiquiu and Roswell, where vast and very different spaces literally offer new horizons, new possibilities. The notion of place as a spiritual antidote, nature as a sanctuary, is familiar in the ancient cultures of the southwest, in its art and its continuous allure for those of us from elsewhere. Sorrow is not denied, but acknowledged and transcended by earth, water, sky. In a sense Marsh's work is a plea for understanding, a personal and unifying need or desire that is offered to the viewer as a gift.
---
"Silent Ways of Speaking"
MUSEUM OF NEBRASKA ART, Kearney, NE
JUNIOR CURATOR SHOW: "Silent Ways of Speaking"
May 9 – July 13, 2014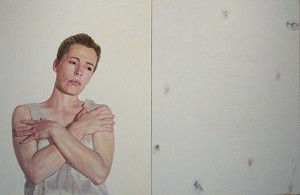 Diane Marsh, "The Ending of Sorrow" oil on linen, 1994

May 9 – July 13, 2014
A select group of high school students works with the Museum of Nebraska Art staff to conceptualize, choose, and install an exhibition of artworks drawn from MONA's collection. The experiential learning expands their knowledge of art, museums, and careers. Silent Ways of Speaking is based on the emotional content of art. The students chose pieces that stir an emotional reaction as well as ones that have emotional content, allowing viewers to create their own interpretation.
---
Earth Mother: Artist Promotes Need to Protect Nature in Her Paintings
Diane Marsh "The Weeping Drawer" oil on wood 2006



"EARTH MOTHER: Artist Promotes Need to protect nature in her paintings"
Albuquerque Journal North, May 5, 2006 by Dottie Indyke


In more than two decades as a painter; through times when her possessions were meager and the marketplace was indifferent, Diane Marsh has refused to compromise.
Art for the Abiquiu denizen, is a calling not a career, a venue for articulating deeply held values rather than a revenue source. Some collectors find her work too confrontational, yet others stand before it moved to tears.
Tonight Marsh-whose pieces are in collections at the Albuquerque and Roswell Museum, Santa Fe's Museum of Fine Arts and Capitol Art Collection-is featured alongside painter Duane Slick, at Addison Arts. She is best known for her hyper-realistic portraits of people captured in moments of emotional angst, paintings that convey her belief that humans can only evolve by facing their pain and suffering.
With the birth of her son, Marsh's focus has shifted. Her thoughts have turned to the state of the environment and what will be left of planet Earth to pass on to the next generation.
Set at Bitter Lake reservoir in Roswell, her recent oil "Sanctuary," depicts a mother passionately embracing her young son, their faces a mix of serenity and desperation. The painting alludes to the state of the natural world and suggests that the Earth, like the mother can be a source of comfort and refuge.
"The Weeping Drawer," a portrayal of a dispirited woman with hands clasped, perhaps in prayer, contains a working drawer. Inside are three small paintings-the Earth on fire, and antelope with an arrow in its neck and an image of a child. Marsh's message is clear: we must honor our connection to nature of risk disaster.
All the canvases are crafted with meticulous detail that requires hundreds of hours of painting time and assiduous study of the human body. Marsh and her son are models for much of the work but, the artist emphasizes, these are not self-portraits. Her figures are meant as archetypes for all human beings.
Growing up in Buffalo, N.Y., art and nature were Marsh's passions. After earning a graduate degree in paintings, she moved to New York City to live in the eye of the art world and was lured to Roswell by an artist-in-residence fellowship.
"Roswell was a very small town then," she recalls. "I absolutely loved the high desert plains and the pronghorn antelope that roamed there. This was the kind of life I wanted to have."
She met her future husband, artist Eddie Dominguez, and nine years ago the couple's son was born. His arrival in the world prompted "Anton's Flowers," a visual homage to a new life and the starting point in Marsh's most recent creative transformation. "Its a big still-life of beautiful flowers in the light," is how Marsh describes the 2002 painting. "I wanted to do something about the joy, beauty, and happiness of having a child."
---
Art News May 2006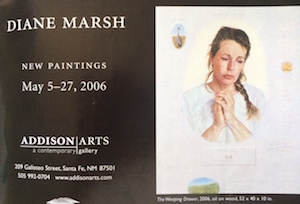 Diane Marsh
New Paintings 2006
Addison Arts Gallery, Santa Fe, NM
---
L. Kent Wolgamott: Spiritual, emotional powers resonate long after leaving exhibition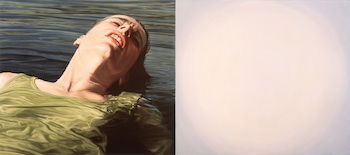 Diane Marsh "Moving Toward Light" oil on wood 36" x 84" 1988




"Spiritual, Emotional Powers Resonate Long After Leaving Exhibition"
by L. Kent Wolgamott
Lincoln Journal Star July 02, 2005


KEARNEY — Giant rosaries rest on the floor, and a cross covered with nails hangs from the ceiling. Paintings of emotionally exposed people paired with quiet environments or "blank" spaces hang on the walls. A set of praying hands, one gold, the other red and looking like fire, sits on a pedestal.
That is the view that immediately confronts visitors to "Diane Marsh & Eddie Dominguez: Parallel Perceptions of Land, Form and the Natural Condition," a striking Museum of Nebraska Art exhibition that features the work of painter Marsh and her husband, ceramicist Dominguez.
The work in the show was not done at the same time. Marsh's paintings date as far back as 1988, and more than half were completed in the 1990s, while all of Dominguez's ceramics were done in the last two years. But they nonetheless inform and powerfully reinforce each other.
Dominguez's rosaries, made on 20-foot strands of rope, have obvious religious roots. The rosary itself is a religious object used in daily devotion, and Dominguez adds additional Catholic iconography to the pieces with nails covering the beads on "Nail Rosary," a reference to the crucifixion that is repeated in the hanging "Nail Crucifix," and bright red ceramic beads representing drops of blood in "Sangre de Christo."
Those pieces give the exhibition a distinct spiritual underpinning. But that sensibility takes on additional resonance when seen with Marsh's realist imagery of the faces of men and women who seem to be exposing the rawest of emotions.
Created by subjects "acting," the portraits are nonetheless gripping, emotionally honest images, whether it is one of four Marsh self-portraits, such as "Moving Toward Light," which shows the artist lying on her back in water, her eyes clinched shut, or the repeating images of her other subjects, including the man in "Deep Into His Distance," a painting that is part of the Sheldon Memorial Art Gallery collection.
As if to put a point on the fact that her paintings have a spiritual underpinning, Marsh scratches a quote from Krishnamurti, the 20th century Indian spiritual teacher, into the right half of "The Ending of Sorrow," a powerful painting that underlies the exhibition's unifying notion — hope — identified by curator Teleza Rodriguez in her gallery notes .
But there is another theme that ties the work together. It is of personal expression and love for family.
Marsh's expression can be seen, to some measure, in the paintings in which she is the subject, including the sadly beautiful "The Ending of Sorrow." Dominguez's expression takes a little background information to fully appreciate.
The giant rosaries are laden with religious symbolism. But they are also personal icons for Dominguez. Two of them hang on the wall and run down onto the floor, replicating in large scale the rosary that Dominguez's grandmother kept on a hook. When she would take it down to say her prayers, he recalls, all the kids got quiet out of respect, maybe, out of a desire to avoid getting in trouble, you bet.
That connection illustrates the family theme that pervades the work. Family is most easily seen in the room with a pair of pieces titled "Anton's Flowers," one a gorgeous 2002 reflection-filled still life by Marsh, the other one of Dominguez's signature "dish" sets that turn cups, saucers and plates into a beautiful blue-and-green-dominated ceramic garden. Also in the room is "Anton's Rock," one of a handful of Dominguez maquettes in the show.
Anton is Marsh and Dominguez's son. He can be seen in his mother's arms in the appropriately titled "Sanctuary," the painting that is hung in the center of the gallery and is the first object a viewer sees when entering the exhibition. On the floor in front of Marsh's powerful portrayal of mother and child against a barren river landscape with birds flying above is "Diane's Gems," a pile of Dominguez's ceramic "gemstones" he named for his wife.
The other themes of the exhibition are equally as compelling as the spirituality and emotional connection that is evident between the couple's work.
Marsh's "landscapes" extend from the spiral nebula depicted opposite a crying woman in "Rage, Rage Against the Dying of Light" to a Platte River-like view with a crane flying above in "Passages" to the New Mexico desert depiction in "To Heal an Unfinished Life."
Marsh's paintings pairing landscape with portraits are echoed in a set of Dominguez torsos. Two torsos, one male and one female, are done in terra cotta with leaves and other designs carved into the "body." The other two are more elaborate — "Red Torso" and "Blue Torso," in which the glazings give the landscape on body rich color and a distinctive sense of motion. "Red Torso" brings to mind a fiery New Mexico sunset while its blue companion shows the rolling landscape in bright daylight.
This exhibition is the first time that Marsh and Dominguez have shown their work together. Through its insightful hanging and often telling juxtapositions of paintings and ceramics, I'm sure they've learned something of their connection from looking at it.
I'm certain that anyone who walks into the galleries can't miss the connection between the themes in their work. Nor will it soon be forgotten. The spiritual and emotional power of the exhibition is unmistakable and makes its works resonate long after leaving the museum. That is the mark of an important, meaningful show — something that is relatively rare in any museum or gallery.
In other words, don't miss "Diane Marsh & Eddie Dominguez: Parallel Perceptions of Land, Form and the Natural Condition." You've got until Aug. 28 to get to Kearney to see it.
Reach L. Kent Wolgamott at 473-7244 or kwolgamott@journalstar.com.
If you go
What: "Diane Marsh & Eddie Dominguez: Parallel Perceptions of Land, Form and the Natural Condition"
Where: The Museum of Nebraska Art, 2401 Central Ave., Kearney.
When: Through Aug. 28
---
Top 10 Art World Encounters in 2005
"Top 10 Art World Encounters in 2005" by L. Kent Wolgamott
Lincoln Journal Star, December 31, 2005
At the end of each year, I take a look back and put together a Top 10 list from my encounters in the art world in the preceding 12 months. By definition, such lists are personal and subjective. But they invariably show the variety and depth of the contemporary world, whether they're compiled in Lincoln, Neb., or by the contributors to ARTForum from around the world. That said, here's my Top 10 list for 2005:
1.
"Singular Expressions."
With its presentation of nine midcareer artists with solid national and international reputations, this invitational exhibition that closes Feb. 12 at the Sheldon Memorial Art Gallery is the most important contemporary art show in Nebraska of 2005 and, arguably, the most important such show ever at Sheldon.
2.
"Diane Marsh & Eddie Dominguez: Parallel Perceptions of Land, Form and the Natural Condition."
This summer show at the Museum of Nebraska Art in Kearney marked the first time that husband and wife/ceramicist and painter Eddie Dominguez and Diane Marsh had shown their work together. Through its insightful hanging and often-telling juxtapositions of her paintings that frequently contrast anguished portraits with landscapes and his ceramics, particularly a series of giant rosaries, the exhibition had great spiritual and emotional power and with the inclusion of works about their son, Anton, resonated with ideas of family as well.
3.
"Dan Flavin: A Retrospective."
The best big museum show I saw this year was this retina-frying gathering of 50 works by the minimalist sculptor Dan Flavin, It was at the Modern Art Museum of Fort Worth when I saw it.
4.
"Patrick Rowan."
This career retrospective
5. "
Petah Coyne: Above and Beneath the Skin."
6.
Tugboat Gallery
opens. For me, the biggest news on the Lincoln gallery scene this year was the May opening of the Tugboat Gallery.
7. "Bring Your Bar Codes."

8.
The Guerrilla Girls.
9.
"Dirk Skreber:
10.
"April Gornik: Paintings and Drawings."
---
Together in Art, Marriage
"Together in Art, Marriage" by Jan Thompson
Kearney Hub, Thursday, July 14, 2005


KEARNEY - Painter Diane Marsh and sculptor Eddie Dominguez have been displaying their work together for many years - but only in their living room.
Their joint exhibit at Kearney's Museum of Nebraska Art, up through Aug. 28, is a first for the married couple. The two artists had ideas about the exhibit as different as their work, but both like the dual vision that comes through in "Diane Marsh and Eddie Dominguez: Parallel Perceptions of Land, Form, and the Natural Condition."
"I wasn't even convinced" about the idea of a joint exhibit when she agreed to it, said Marsh. She said she hesitated at curator Teliza Rodriguez's plan because her work is much different from Dominguez's. There are different color palettes, different media, different styles to the work.
It wasn't until the opening reception, when she saw the exhibit in MONA's east galleries, that she realized it worked.
"I thought the show was powerful, and just beautiful," she said.
Dominguez said he liked the idea of a joint exhibit from the beginning. Sure, he and Marsh have different approaches to art, he said, but hey - it works at home.
"I also know that in our house there's one of her paintings and one of my pieces, and there's no conflict," he said.
Dominguez, an assistant professor at the University of Nebraska-Lincoln, creates large ceramic sculptures in brilliant colors. The exhibit includes some of his earlier work, such as a dinnerware set in the shape of a flower garden, but most of the pieces are very new. Dominguez said his rosaries, torsos, crucifixes and other work came through a spiritual search, prompted partly by the death of his mother.
"They all sort of happened at the same time," said Dominguez, adding that he becomes aware of the meanings within his pieces as they happen. For example, he'd long been interested in figurative art before trying the torso sculptures, which he later realized echo the shape of the crucifix.
Marsh, who lives and works at the couple's full-time home in New Mexico, paints very large figures that show intense emotion. They are often juxtaposed with objects that give insight into the emotion. Marsh said the size of her work, and its realistic style, come because she wants to show basic truths about what it's like to be human.
"I'm trying to tell the truth as I know it," she said. "I feel like if I'm telling the truth about what it feels like to be human . . .it will be true for other people as well."
Marsh said her work can disturb viewers, because it asks them to look at emotions they may not want to deal with. Dominguez said that intensity in Marsh's work gives it something in common with his own, though he describes her paintings as "soft bold" compared to his "hard bold."
Her colors are soft, her surfaces smooth and her images are ethereal, Dominguez said, while his colors are bright, surfaces harsh and images solid. But they express a similar vision, boldly.
"And that's kind of like our life," Marsh said.
---
Diane Marsh Paintings Exhibited at Roswell Museum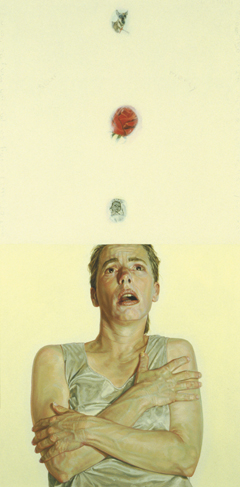 "The Awakening" oil on paper, 1996, 28" x 15"



"Diane Marsh Paintings Exhibited at Roswell Museum" by Blake Larson
Roswell Daily Record 2002


Roswell Artist-In-Residence Program artist Diane Marsh currently is exhibiting recent work at the Roswell Museum and Art Center. The electrifying seven piece exhibit can be seen in the Winston-Marshall Gallery now through Dec. 29.
Beyond her prodigious technical skills, Marsh's paintings deal most relevantly with larger human issues: personal growth, transcendence, and man kind's tenuous connections to nature, each other, and o one's self. The work is not about storytelling but about feeling, says Blake Larsen, preparator. "It is not about delineating the individual; its is about illuminating the human being. The work is not portraiture, whether the subject appears to be a personage, a landscape, or a flower. It is an offering of the artist's private and personal revelation of hope. It is about the journey of being alive."
For Larsen, Marsh's art is as complex and multi-directional as the "conceptual art" movement with which she shares her age. Her uses of visual realism are only an adjunct to her call for repentance, self-realization, and salvation.
Visitors to the museum may view Marsh's work 9 am to 5pm Mon. through Sunday.